Books and DVDs Authors and Writers
For We Sign DVDs, Sign to Speak Babies and Toddlers Books, and
Play-Along Songs Children's Interactive Children's Music Books
We Sign, Sign to Speak, and Play-Along Songs has put together some of the finest authors and songwriters to create practical, usable, and effective sign language and interactive music. Our authors and song writers include Dr. Marilyn Daniels, Ken Frawley, Georgia Frawley, Dan Crow, Dave Kinnoin, and Bob Harrison.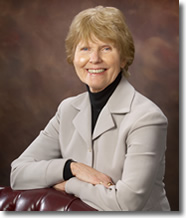 Dr. Marilyn Daniels has co-authored for us the Mom's Choice Award winning books and link to product pages Since the 1990s, Dr. Marilyn Daniels has been one of the premier authors and researchers on the use of American Sign Language with hearing children. She has been quoted extensively in many publications and has appeared on radio and television for over 20 years. She is a professor of communication arts and sciences at Pennsylvania State University.
Dr. Marilyn Daniels' first study, "ASL as a Factor in Acquiring English," was published in Sign Language Studies in 1993. Since then she has published nineteen additional research studies and two books on this subject, including her widely quoted book Dancing with Words. Dr. Daniels has been in numerous magazines and newspapers in the United States, Canada, and England. Marilyn also lectures and presents workshops to help parents, teachers, and other caregivers learn how to effectively use sign language with hearing children.
Her research has taken place in a variety of locations in the United States, from Vermont to California. In addition, she has been actively involved in several sign language projects throughout the world. Recently, she introduced the Canadian Association for the Deaf and Hard of Hearing to the ASL literacy process that she is engaged in with hearing children in the United States.
Dr. Marilyn Daniels has served as a consultant to several ongoing sign language projects in the United Kingdom. In these endeavors, British Sign Language is being used to improve learning with young students. In addition, she taught summer courses at Nagoya University in Nagoya, Japan, to teachers of English as a second language.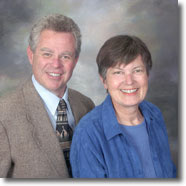 Ken & Georgia Frawley
Ken Frawley graduated from California State University Fullerton with a bachelor's degree in liberal studies, intending to become an elementary school teacher. Instead, he began to perform, often with his wife, Georgia Frawley, at children's and family concerts at schools, libraries, and community events throughout Southern California. He has written over 200 children's songs used around the country and is an award-winning producer of video products for children. He has taught thousands of parents and teachers across the country how to incorporate singing and signing into the lives of children, from birth to elementary school. He has performed his play-along and signing songs with hundreds of thousands of children for many years. In addition, he coproduced the multiple award-winning Say, Sing and Sign video and the WE Sign DVD series.
He and Georgia experienced the benefits of signing with their own children in the 1980s. They used sign not only to enhance communication, but as part of songs and games that provided for fun family interaction while supporting early learning of educational concepts. They later included signing activities in their children's concerts and shows. From these experiences they developed programs for using sign with all hearing children from babies to elementary school ages and have taught their concepts and techniques to parents and educators across the country.
Georgia Frawley, MA, began working as a dorm counselor at the California School for the Deaf in Riverside, California, while she was finishing her teaching credential in physical education and home economics from California State Polytechnic University Pomona. By the end of her first day of work, the children had taught her over 30 signs.
When she married Ken and they had a daughter, Coreen, signing with her was second nature to Georgia. As shetalked, Georgia also signed the same words she had learned to use with the children from the School for the Deaf. It seemed to her that she was supporting language growth by making words visual for her young child.
She has been teaching Child Development, Parenting and Marriage and Family classes for over 30 years. While developing and running her on-campus day-care center, she received a Masters degree in counseling, which she used to help the young parents at her high school. She has taught thousands of students and parents about the benefits of sign language and how to use signing effectively with young children.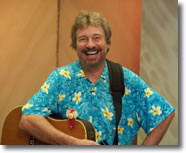 Dan Crow is one of America's most beloved family entertainers and recording artists. He contributed  one of his popular preschool songs to the Play-Along Songs Volume 2 song collection.  He is the star of the Emmy Award-winning video Just for Fun, and three-time Parents' Choice Gold Award winner, and a CableAce nominated songwriter for his work on the Disney Channel. He is seen regularly on Nickelodeon and The Learning Channel. Dan is a buddy of Winnie the Pooh and Dumbo, for whom he has composed over 100 songs, and he performed the title song for the family classic film "The Adventures of Milo and Otis." Dan uses music and stories to bring a love and respect for nature, a sense of humor, and a deep appreciation for the value of friendship and sharing to the world. Visit www.DanCrow.com for more songs and products available from Dan.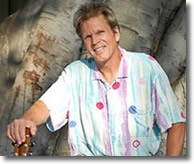 Dave Kinnoin - Contributing Artist songwizard.com
Dave Kinnoin is one of the hardest-working artists in the children's music business. He contributed  one of his phonemic awareness songs to the Play-Along Songs Volume collection of kids songs. He is a recording artist on Song Wizard Records, he tours nationally to rave reviews, and holds the coveted Parents' Choice Gold Award for his music. Dave Kinnoin has written over 200 songs in the past few years, most notably for Jim Henson TV, Video, and Interactive; Disney Audio, Video, and TV; Davidson & Associates; Simon and Shuster Interactive; Sesame Street and Sony Wonder Home Video; and Children's Television Workshop. Additional awards include the National Association of Parenting Publications Award Gold Award, and an Oppenheim Toy Portfolio Gold Award. His CD's include: Teaspoon at a Time; The Earth's Birthday Sing-Along; Getting Bigger, Dunce Cap Kelly; Daring Dewey; and Fun-A-Rooney.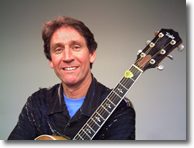 Bob Harrison writes songs that are meant to get children to smile, laugh, involved, and learning – all at the same time. He grew up listening to the sing-along albums of Burl Ives, Tom Paxton, Pete Seeger, Danny Kaye, Ella Jenkins, Woody Guthrie, The Limelighters, and Peter, Paul, and Mary. The influences of these artists have helped him to create songs that speak directly to children and engage them in fun-loving musical activities. Bob has performed for over 30 years throughout Southern California to hundreds of thousands of children and is a music specialist who works regularly in elementary schools.
KF Enterprises - Publishing
K F Enterprises has become a leader in producing quality educational book and video products for children from birth through elementary school. For over 20 years, the products developed have been highly acclaimed by parents, teachers, caregivers, and other early childhood professionals and its titles have received over 50 national awards including Telly, Dr. Toy, and Mom's Choice Awards. The company's philosophy has been to produced products that adults can use to engage children in interactive and fun activities that support early learning. The product line has never been designed to sit children down and plug and play the material.
Included in the collection of products are Sign to Speak books featuring American Sign Language, ASL, Play-Along Song books that feature interactive songs, and the We Sign DVD series of ASL based song activities. Each product and every song has been selected to support communication, learning and language development, enhance vocabulary, and, above all, provide adults and children with fun, playful, and educational activities.
All our products and support are geared toward providing children with a "Jump Start on Smart." That is to foster an enthusiasm for learning with a strong language-rich foundation to help them increase their learning confidence, expand their vocabularies and usable words, strengthen their reading readiness, and develop an interest in learning that will last a lifetime.