About Play-Along Songs
Books, CD's, & Online Support
Play-Along Songs books are collections of highly engaging new and traditional children's songs ideal for all ages (babies, toddlers, preschoolers, and elementary children) to sing and play-along with their movements, sounds, and creative explorations with words and rhymes.

Play-Along Songs offers parents, teachers, early childhood professionals, and childcare providers, a complete and supported program for learning, teaching, and using children's songs. Interactive children's songs are not only fun, but also support learning, physical development, and creativity.
Play-Along Songs books come with:
Sheet music for each song with melody and guitar chords,  
Clear photographic depictions of movements used in every song.
Easy-to-follow instructions that help you to understand how-to teach and use the songs.
Insights and tips from years of experience in presenting these songs to children.
CD's of all songs in each book are included with online purchase. Individual CD's for each book, as well as other titles, are also available for purchase.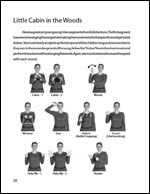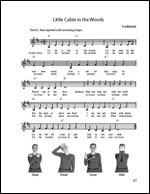 Learn More
About the Play Along Songs Product

FREE ONLINE VIDEO DEMONSTRATIONS for each book that not only depict how songs are performed, but also offer additional information about teaching and using songs.  Here is an example of a highly interactive American camp song, that is ideal for older preschool and elementary age children from Play-Along Songs Volume 1 called I'm a LIttle Piece of Tin. 
Lesson plans are also available online that provide step-by-step instructions, including objectives and educational content, for every song in each of our collections. See Lesson Plans

Play-Along Songs will allow anyone, with or without any musical experience or background, to bring participatory children's songs into the lives of all children for fun and for their rich benefits. 
Play-Along Songs:
Are simple and repetitive songs
Have been used with children for generations
All have demonstrated the ability to connect with children
Involve fine and gross motor skills
Encourage language development and understanding
Reinforce learning of concepts (ABCs, numbers, colors, animals, and more)
Promote music as an important part of life and education
Foster an enthusiasm for creative expression through words, ideas, and songs