About Sign to Speak – ASL for Babies and Toddlers
Sign to Speak features American Sign Language, ASL, instructions and activities for signing with babies and toddlers for parents, teachers, early childhood professionals, and caregivers of young children. The books are age specific and provide practical advice, signing information, research support, easy-to-learn signs, and ASL activities to use with babies and with toddlers. As with all our products the information, instructions, signs, songs, activities, DVDs are all designed to give adults the tools necessary to sign successfully and engage children in fun and playful learning activities.
Sign to Speak books are co-authored by Dr. Marilyn Daniels, America's leading lecturer, author and researcher on the use of American Sign language, ASL, with hearing children for fun and learning, and Ken and Georgia Frawley, award winning producers of the We Sign DVD series, lecturers, performers, and authors on ASL for parents, teachers, and early childhood professionals to use sign with children of all ages.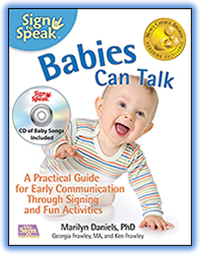 Babies Can Talk is specifically designed to provide baby ASL signs and instruction for early communication. Our signs, based on over 60 years of combined experience, provide babies with language skills allowing them to express their wants and needs. This helps reduce parent child communication frustrations and help to foster language development.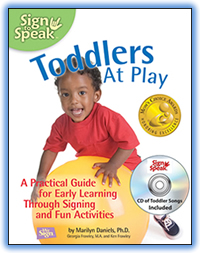 Toddlers at Play is for ages 18 months through 3 years. This book offers a variety of interesting toddler ASL signs and instructions that help toddlers to explore their world and expand their vocabularies. It also provides silent behavior control signs which helps to soften the "terrible two." Included are over 300 signs, songs, rhymes, stories, games, and research support.