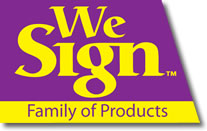 We Sign Products
Animals Sign Langauge
Songs Featuring ASL

Multiple Award Winning Series
We Sign More Animal Songs DVD is an additional collection of animal songs featuring American Sign Language, ASL. This collection of Animal Songs is for older preschool and elementary school children. The songs are more complex and challenging in collection of more animal songs. Children, parents, teachers, early childhood professionals, and caregivers will enjoy learning hundreds of ASL signs for animals, habitats, environments, and ASL vocabulary while singing and signing-along with this DVD of more animalsongs.

Everyone can use ASL and music for fun and learning even with no experience.  The We Sign Instructor will teach and demonstrate all the signs that will be used in each of our More Animal Song.  The instructor will also sing and sign along giving you a clear demonstration for each song.  This helps anyone, with or without signing experience, to correctly sign the songs. We Sign always recommends challenging you and your children's signing, but we recommend that you begin with signs and the number of signs you are most comfortable presenting and then add more  with proficiency. 

Special features include: a Spanish language track, Instructor track, closed captioning, and more.
Songs on this DVD:
Thinking of An Animal
Animals Live All Around the World
Walking Through the Forest
They Call Home
View All Products
Books, DVDs, CDs