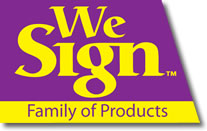 We Sign Products
Animal Songs
Mother Goose Nursery Rhymes DVD

Multiple Award Winning Series
Animals Songs DVD features American Sign Language, ASL, with songs all about animals. This DVD supports early learning of words and concepts along with developing language and enhancing reading readiness. The fun and playful animal songs are ideal for preschool and elementary children to learn animals and hundreds of words.

Parents, teachers, early childhood professionals, and caregivers, with or without any signing or musical experience, can be successful with these animal songs.  The We Sign Instructor teaches and demonstrates all of the signs and concepts needed to sign these animal songs successfully.  We Sign Kids Tracks are a fun way for children, once they have learned the songs and signs, to follow along.

Special features include: Instructor track, Spanish language track, We Sign Kids track, closed caption, repeat play, and subtitles.

Animal Songs DVD Features these animal songs:
Oh Where, Oh Where Has My Little Dog Gone
Itsy, Bitsy Spider
Bat, Bat
The Bear Went Over the Mountain
"Croak," Said the Toad
Animal Parade
Froggie Went A-Courtin'
Animal Alphabet
View All Products
Books, DVDs, CDs