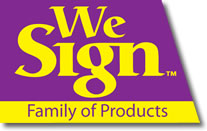 We Sign Products
Baby and Toddler Sign Language with American Sign Language, ASL

Multiple Award Winning Series
Communicate with your baby and toddler.  Baby and Toddler sign language allows very young children to tell you their wants, needs, feelings, and thoughts without crying, screaming, or temper tantrums. American Sign Language, ASL, will allow all this and more to happen. 

Our baby and toddler sign language DVD provides parents, teachers, early childhood professionals, and caregivers with the 30 most used, practical and age appropriate baby and toddler signs. The We Sign Instructor demonstrates all the baby and toddler signs, provides insights, and offers tips on how to effectively use sign language with babies and toddlers. 

This baby and toddler sign language DVD features also features a video dictionary of over 200 additional words, and a collection of 12 Baby Song activities that are ideal to sign with babies and toddlers.

Baby and toddler sign language helps to reduce communication frustration, enhace vocabulary and language skills, and support early learning.

Special features include: Spanish language track, We Sign Baby Songs, closed caption, repeat play, and subtitles.
PLUS!!
We Sign BABY SONGS Included!
Learn to sing and sign baby and toddler songs!
Baby and Toddler Sign Language DVD provides:
Easy-to-follow and clearly demonstrated signs.
Practical how-to information.
Insightful comments and useful signing tips.
Songs for fun and playful bonding activities.
A program to reduce tantrums and parent/child communication frustrations.
Promotes early communication and language development.
Choose as many or as few signs that you wish to use from our top 30 words or from the over 250 featured signs.
View All Products
Books, DVDs, CDs