Teaching Kids Sign Language
Preschool and Elementary Ages
Teaching kid's sign language is easy for parents, teachers and caregivers to learn.  With our 12 teaching kids sign language tips you will be successful with using ASL with kids for fun and to support and strengthen early learning.
When teaching kids sign language learn the signs and the signing activities first.
 It is important for you to know the signs, how to sign the signs correctly, to learn any insights about the sign, like how it looks (like the beak on a bird) or if facial expression enhances a sign (like strong facial expression adds more meaning to the word stop).  If you are going to use kids signs as part of a song, then learn to sign and sign the words effectively prior to teaching your kids.


When teaching kids sign language begin with just a few signs.
Learn to use the number of signs you are comfortable using and add more with proficiency.  You do not have to sign every word or even every word that you see instructed for an activity or a song.


Choose to teach signs to kids that support the learning activity
you will be teaching. For preschoolers the learning of signs for core educational concepts (ABCs, numbers, colors, animals, etc.) are beneficial. For elementary children, choose fun signing activities that foster language growth and reading readiness (ABC's and phonemic awareness).


Teach kids sign language consistently and correctly.  
Teach and sign the correct ASL signs as you say the word.  By doing this you are reinforcing the signs you are teaching while supporting the learning of vocabulary to the 4th most common language in the country, American Sign Language.  The more often your kids hear the spoken word and connect it to the sign, the more understanding they will develop and the better their ability will be to use the word.


Sign throughout the day.
Incorporate sign language into your daily activities. Use it in conversation, or when reading books, and singing songs. This will help to reinforce the learning and understanding of each word.  Signs like STOP are great silent behavior controls that make signing a natural part of the day.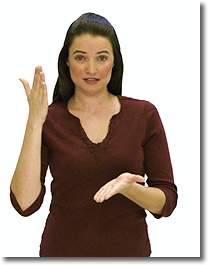 Stop - Pos 1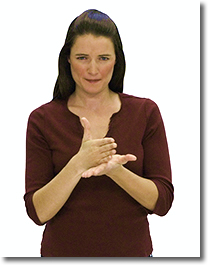 Stop - Pos 2
STOP- Hold your left hand, palm up and extended.  Hold your right flat hand facing in and chop it down quickly, laying it on top of your left hand.  Use your facial expression to reinforce how strongly you mean STOP.
Create special sign times for signing.
Having set times each day to playfully sign with songs or books is useful in creating an enthusiasm for these activities in children. Play-Along Songs: Children's Songs to Sign Vol. 3 offers over 30 sign language songs for you to use.  Watch this fun video from We Sign Fun Time that you can use for special signing times: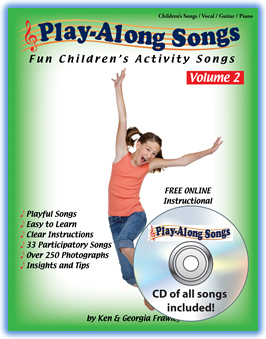 PAS Vol 2
When teaching kids sign language keep the activity fun.
Signing with children needs to be a playful and interactive activity that has them moving, singing, watching and learning. It is a genuinely engaging and challenging activity that can be successful, with and keeping signing fun provides you with a powerful learning tool that children will love to do.


Be enthusiastic about teaching sign language.
Show that you really enjoy teaching sign and interacting with your kids in signing activities.


Offer positive reinforcement.
Praise, support and reward all the efforts children make to become successful at the use of sign. Never be forceful or coercive rather celebrate all their attempts.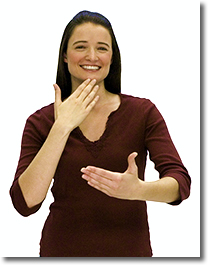 Good: Pos 1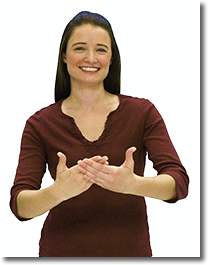 Good: Pos 2
GOOD – Hold your right hand flat, near your mouth, then move it down to your left hand, which is held with the palm up in front of you.  Both palms will be facing up with the back of your right hand on the palm of your left hand.
Be Creative.  Find unique and fun ways to sign with children and to have them direct the signing activities.  With songs you can easily change the signs by changing the lyrics to the song to reflect new signs you are teaching.  For example, once you have learned to sign a song like Old MacDonald Had a Farm, you easily substitute signs for other animals.

Classroom Management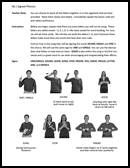 For preschool and early elementary children classroom management signs are a wonderful way to use silent behavior controls.  Teachers find that when they use signing as part of their daily routine children keep focused on them and they pay attention. This is due to the visual nature of signing; you must see the sign to understand it. Commands like walk, line up, sit down and quiet can be signed and understood over distances rather than speaking loudly. Signed commands lead to a quieter and pleasant classroom with less nagging and fewer reminders to pay attention. Teachers report that children love to learn sign and it actually "goes a long way to generating an enthusiasm for learning in their students." (Daniels p.75)
PRODUCTS TO HELP YOU TO TEACH KIDS SIGN LANGUAGE
These products all include either an instructor teaching all the signs for songs or FREE online support for sign language used in kids songs.