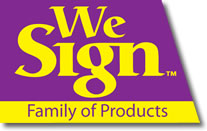 We Sign Products
Alphabet Songs DVD
featuring American Sign Language, ASL

Multiple Award Winning Series
We Sign ABCs DVD combines American Sign Language, ASL, and fun alphabet songs to learn the ABC's. The sign language alphabet songs support sight recognition, first letter phonemic sounds, and early spelling skills. This Alphabet Songs DVD, is a powerful way to enhance and support the learning of key reading readiness skills.
Parents, teachers, early childhood professionals, and caregivers, with or without any signing or musical experience, can be successful with these alphabet songs.  The We Sign Instructor teaches and demonstrates all of the letters, signs, and concepts needed to sign these songs successfully.  We Sign Kids Tracks are a fun way for children, once they have learned the songs and signs, to follow along.
Special features include: Instructor track, Spanish language track, We Sign Kids track, closed caption, repeat play, and subtitles.
Sign language Alphabet Songs Included:
ABC Song – Powerful way to learn and remember the alphabet
ABC Object Song – Supports first letter sounds of the alphabet
S M I L E – finger spelling song that creatively supports spelling.
View All Products
Books, DVDs, CDs