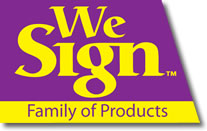 We Sign Products
Baby Songs DVD
Songs for Babies with American Sign Language, ASL

Multiple Award Winning Series
BABY SONGS DVD, a collection of twelve fun, interactive songs for babies, enables you to play and bond with your baby while strengthening early learning.

Baby Songs is specifically designed for you to use sign language songs with your baby.
Baby Songs provides clear & easy-to-follow signing instruction.
Baby Songs Reinforces many of the most commonly used baby signs.
No previous signing experience is necessary to use these fun songs for babies.
Based on research demonstrating that babies can understand and communicate at a very early age.
Baby Songs is part of the family of award-winning DVD's and Sign to Speak Books. Your child will grow with this captivating series and will experience their very own Jump Start on Smart.
Baby Songs Demonstrated:
Mary Had a Little Lamb
Bah, Bah Black Sheep
To Market, To Market
Where is Baby?
How Many Legs?
The Tiny Little Mouse
I See a Bunny
Sleep Little Baby
Five Little Fingers
The Pretty Little Pony
Hush Little Baby
Do You Hear the Ducky Sing?
View All Products
Books, DVDs, CDs