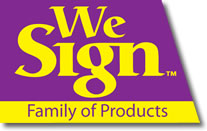 We Sign Products
Christmas Songs
with American Sign Language, ASL DVD

Multiple Award Winning Series
This Christmas Songs DVD features new and traditional Xmas songs combined with American Sign Language, ASL.provides a wonderful way to experience a collection of new and traditional non-religious Christmas Songs.  
All ages can enjoy Christmas songs with ASL. Our instructions and demonstrations make it eady and everyone will experience signing-along and singing-along success. These are great holiday songs for preschool and elementary school children to learn and demonstrate at assemblies, parent nights, and other all-school events.

American Sign Language, ASL is the fourth most commonly used language in the United States and these songs will help everyone to learn lots of ASL vocabulary. Best of all, anyone can do it.  The We Sign Instructor will teach and demonstrate all the signs that will be used in each song.  Then the instructor will sing and sign along giving you a clear demonstration for each song. 

Special features that include: Spanish Language and instructor track, Spanish language track, closed caption, repeat play, and subtitles.

Christmas Songs Included are:
Jingle Bells
O Christmas Tree
Up on the House Top
Jolly Old St. Nicholas
There Is Snow on the Mountain
The Twelve Days of Christmas
We Wish You a Merry Christmas
View All Products
Books, DVDs, CDs