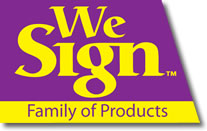 We Sign Products
Numbers Songs DVD

Multiple Award Winning Series
Number Songs DVD features number songs combined with American Sign Language, ASL, to enhance the learning and remembering of numbers 1-100.
Number Songs DVD provides clear instructions and demonstrations to help preschool and early elementary age children learn, remember, and use their number songs with American Sign Language, ASL, from 1 – 100, plus hundreds of other signed words to reinforce early learning.

Parents, teachers, early childhood professionals, and caregivers have used playful music and movement songs to teach lessons to children for generations and these signed number songs have proven to provide a powerful way to build vocabulary as well as to be a wonderful memorization and recall tool. 
Everyone can use ASL and number songs for fun and learning even with no experience.  The We Sign Instructor will teach and demonstrate all the signs that will be used in each of the number songs.  Then the instructor will sing and sign along giving you a clear demonstration for each number song.  This helps anyone, with or without signing experience to correctly sign the songs.  We Sign always recommends challenging you and your children's signing, but recommends beginning with signs and the number of signs you are most comfortable presenting and adding more  with proficiency. 

Special features: American Sign Language, ASL, demonstration and instruction, a Spanish language track, subtitles, a song jukebox, closed captioning, repeat play, and We Sign Kids performing songs. 
Number Songs Included:
One Little Bird
One, Two, Buckle My Shoe
Numbers & Things
Number Song
Ten to One Hundred
One Fuzzy Caterpillar
View All Products
Books, DVDs, CDs