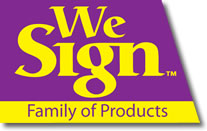 We Sign Products
Preschool Songs with American Sign Language, ASL - Fun Time DVD

Multiple Award Winning Series
We Sign Fun Time is an interactive and easy-to-follow DVD that features new and traditional preschool songs performed with American Sign Language, ASL.  Parents, teachers, early childhood professionals, and caregivers will find that our demonstrations and instructions make it possible for anyone, with or without musical or signing experience, to use these preschool songs successfully.
Fun Time DVD's preschool songs encourages toddlers, preschoolers and elementary children to participate as they sing, sign, and play-along.  It is ideal for independent viewing or as a participatory music and signing activity.
This DVD features American Sign Language, ASL, demonstration and instruction, a Spanish language track, subtitles, a song jukebox, closed captioning, repeat play, and our We Sign Instructor and Kids performing each song.  
Preschool Songs Included:
Five Little Monkeys
Little Miss Muffet
Old MacDonald
Row, Row, Row Your Boat
Oh Where, Oh Where
The More We Get Together
Mama I'm Readin'
If I Were a Little Fish
A Little Song a Singing in My Heart
I'm Gonna'
American Sign Language, ASL, and Preschool Songs:
Supports the early learning of vocabulary and core educational concepts.
Enhances memorization and recall through the utilization of a variety of learning styles – music, movement, visual, verbal, and more, all at the same time.
Offers a playful parent-child or teacher-child bonding activity.
Develops fine and gross motor skills.
Strengthens reading readiness.
Creates an enthusiasm for learning.
View All Products
Books, DVDs, CDs